New Riverside Ochre Company mines and processes pigment and barite that may be in a multitude of products that you see around you every day.
Our cost effective pigments may be found in…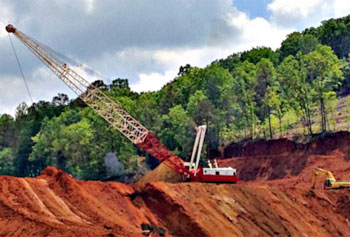 Brick on your home
Mortar between the bricks
Grout between floor and wall tiles
Stucco on homes
Colorant in manufactured stone
Retaining wall blocks and pavers
Color in your driveway or sidewalk
Color in your golf course cart path
Roof tile color or asphalt roofing shingle granules
Rubber and plastic products
You may have already been enjoying the benefits of New Riverside's ochre and were not even aware of it.
New Riverside is a supplier to numerous leading national companies across a broad spectrum of industries. Our pigments are sold either direct or through authorized distribution.


New Riverside is located in the mineral rich mountains of Bartow County, just 45 miles to the Northwest of Atlanta, GA. The area known to geologists as the Cartersville Mining District is world renown from the discovery of iron ore, manganese, ochre, umber, and barite. The first ochre and umber mines date back to 1877, and the barite mining to 1894. Founded in 1905 by William Satterfield, New Riverside remains a family-owned and operated company through the continued ownership of the Dellinger family.

New Riverside is a unique multifunctional, natural iron oxide pigment and barite mining and processing company with many "exclusives" to its credit. Among these, New Riverside is
The oldest Ochre and Umber mining company in the Western Hemisphere
The only year-round ochre & umber mining and processing operation in the United States.
The only Barite (Barium Sulfate) mine east of the Mississippi River.
Is one of only two Barite (Barium Sulfate) mines in North America.
Ochre, a natural iron oxide pigment, was originally used in the early 1900's to color Linoleum for flooring and canvas cloth. Today, Ochre is used throughout the country across a wide range of applications with the greatest being in the manufacturing of construction products.
The success of Ochre and Umber comes from… not only providing the most economical colorants in the pigment industry, but also providing products that are easy to work with and consistent in color. Our customers appreciate the fact that New Riverside adheres to strict quality control tests based on ISO 9001:2008 standards during the production process. This ensures superior reliability and consistency of color.
While there is a long history of ochre mining within the 800 acres of New Riverside Ochre, the company still has extensive mineral reserves and numerous years of stock piled mined ore ready for processing.
In addition to Ochre and Umber, New Riverside also mines high grade Barite (Barium Sulfate). Barite is a mineral that has a wide range of application due to three attributes: it's extremely heavy with a specific gravity of 4.3, soft, and chemically inert. While much of the Barite use within the United States goes to the oil and gas drilling industry to prevent blowouts during drilling, the majority of New Riverside's high grade Barite goes into chemical applications and radiation shielding concrete.